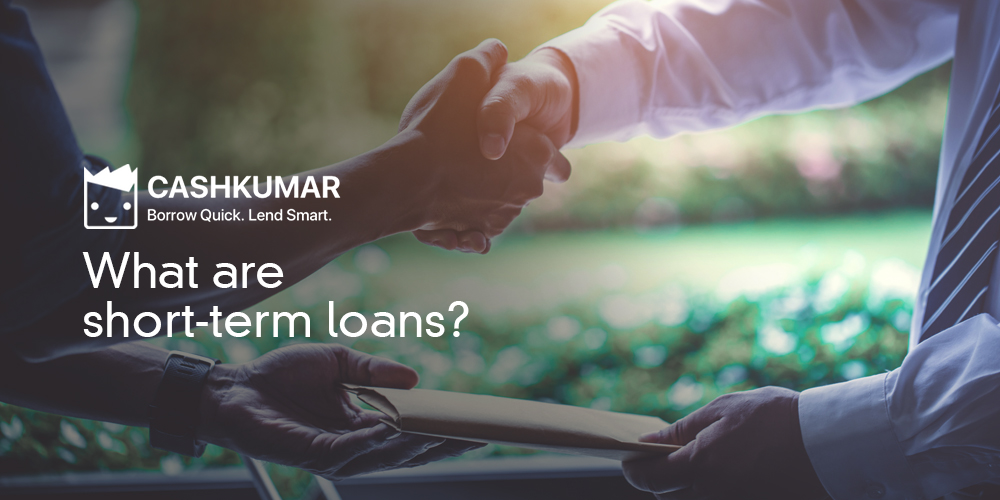 Loans offered for a short term period is referred to as short-term loans. The tenure is usually less than a year in duration. Individuals or businesses generally opt for short-term loans if there is a temporary deficit in cash flows. Banks and non-banking financial institutions provide short term finance options that have been structured to meet the requirements of businesses and individuals. Generally, repayments of short term loans are structured and scheduled to match the availability of cash flow for the individual or the business.
In most cases, these short terms loans do not require any collateral; however, the borrower's credit history plays a critical role in the approval of the loan. The financial institution may request for a collateral or security at their discretion. Short terms loans are typically flexible in terms of the repayment period.
Short term loans have the following key characteristics:
Both individuals and businesses are eligible to apply for short term loans
Loan tenures are flexible and range between 60 days to a year
Amount for the short-term loan is granted on the basis of requirement and eligibility
Credit history of the business or the individual determines the rate of interest
Security or collateral requirements are at the sole discretion of the lender
Short term loans can be tailored to suit the specific needs of the individual or the business
Short term loans may be applied for through an online process that requires minimal documentation
Loans may be granted within 24 hours depending on the policy of the lender
Check your Eligibility:
To be eligible to apply for a short-term loan, the primary checkpoint is the borrower's credit history. With a good credit rating, lenders will be keen towards approving and sanctioning the loan application. However, there are private lenders in the market too who are able to provide short term loans to those individuals or businesses who are excluded. But, they may charge a much higher rate of interest than recognized financial institutions. Be aware of who you are borrowing from in case of private lenders as they may be subject to illegal and fraudulent practices.
Here is a snapshot of the eligibility criteria for short term loans:
For Individuals
Applicants must be salaried or self-employed
Applicants must have a regular monthly income which is above the cut-off threshold. This is variable figure depending on the lender's policy
Applicants must be between 21 and 60 years of age at the time of loan application. Again, this may vary depending on the lender's policy
Documentation provided by the individual in support of the short-term loan application will determine if the loan is approved or rejected
For Organizations
Must have a pre-existing relationship with the lender
Must be able to provide documentary evidence that the organization is making a profit or is projected to make a profit in 2 years' time
The organization needs to establish that they have been in operation for a specified period of time with a certain annual revenue in order to qualify for a short-term loan
Documents Required for Short-Term Loans:
Most short-term loans require submission of the following documents which is applicable for both individuals and businesses:
PAN Card
Evidence of income in the form of revenue or salary slips
Address proof that can be in the form of Rental Agreement, Passport, Phone bill, Post-paid Mobile bill or a Bank Statement
Identity Proof is acceptable in the form of a Driver's License, Aadhaar Card, Voter ID or Passport
Bank Statement for the last six months
Proof of Employment for salaried individuals in the form of a Offer Letter, Form 16 or a Release Letter
Types of Short Term Loans:
There are several types of short-term loans available in India.
Personal Loans:
Both salaried as well as self-employed individuals can apply for short-term personal loans from any nationalized, private bank or even a non-banking financial institution. Typical repayment tenures are between 3 months to a year. Most loans are disbursed within 48 to 72 hours and require minimal documentation.
SME short term loans:
In order to meet immediate cash flow needs of the organization, business entities may apply for a SME short term loan albeit meeting the eligibility criteria of the financial institution.
Bridge Loans:
If you need a loan to tide over an existing loan, it is referred to as a bridge loan. Usually in India, bridge loans are typically taken by individuals when buying or selling property. Businesses also take bridging loans against expected returns or when an organization is waiting for specific funds to come through.
Demand Loans:
Banks or non-banking financial institutions are able to offer demand loans that may be required by individuals or businesses for an urgent financial demand. Generally, these loans are secured and the amount of loan approved is usually between 70% to 90% of the collateral value.
Interest rates for short term loans:
Most short-term loans are either Personal or Advance loans which can be repaid within a period of 12 months of less. They may have variable interest rates. Short term loans offered by institutions have interest rates in the range of 24% to 48% per annum. Other kinds like Salary Advances are offered by private lenders with higher interest rates per annum.
There are advantages of taking out a short-term loan in India as they are tailored to suit the specific requirements of the individual or the business. However, think carefully before you take out the loan and be sure of the fact that you will be able to repay the loan with interest.